What is in a name
The hamlet of Myton, with its chapel, is first mentioned in 1086. It probably stood on the west side of the river Hull not far from its confluence with the mouth of the river Humber.
The Cistercian monks of the nearby Meaux Abbey started to acquire parcels of land in this area because they needed a port where the wool from their estates could be exported. They built a quay at the junction of the rivers Hull and Humber and this place later became known as the Port of Wyke upon Hull (often simply called Wyke or Hull). Wyke is believed to derive from the Scandinavian vik, meaning creek suggesting that even before the Meaux monks established their port it had been visited by ships in earlier times.
Wyke soon established a considerable trade in the export of wool (and to a lesser extent  salt, grain and hides) and the import of wines, timber and furs. In 1293 the town (as it then had become) was acquired from the Meaux Abbey by King Edward I who coveted a port in Northeast England through which he could supply his army when fighting the Scots.
On 1 April 1299 the King granted it  a royal charter renaming the settlement as Kings Town upon Hull or Kingston upon Hull.
We chose the name Myton Law as a reflection of who we are: a company proud to have its roots in Hull with its headquarters located close to the banks of the river Humber in the area once known as Myton. Like the monks of Meaux Abbey we are forward thinking and have a specialist business that attracts clients locally, nationally and internationally.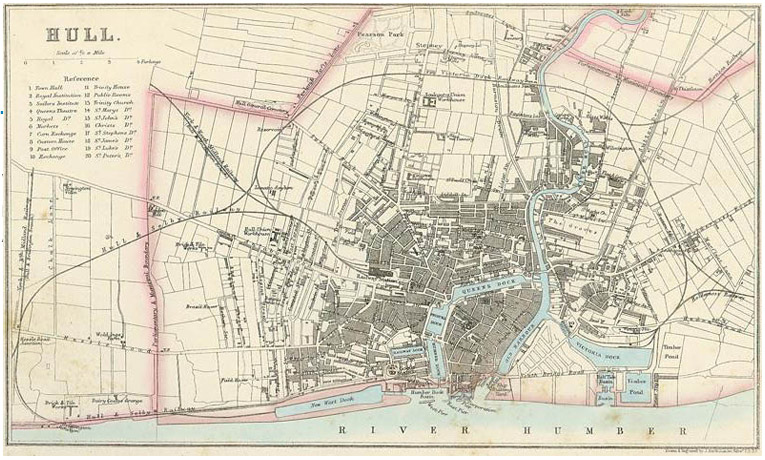 A map of Hull in England published by A. Fullarton & Co. in The Imperial Gazetteer of England & Wales (1866).
More about Myton Law